Taylor Galvin
My name is Taylor Galvin and I am an Environmental Studies student at the University of Manitoba. I am the land-based education coordinator for the Kis Kin Ha Ma Ki Win. As an Indigenous woman from Brokenhead Ojibway Nation, I want to learn from and help my community, as well as other First Nations communities, engage in different traditional, land-based practices.  I would like to help other Indigenous and non-Indigenous students learn about the importance of keeping our traditions alive for the next Seven Generations.  While in school I volunteer with the Graduation Pow Wow, am a leader in an indigenous environmental student group called the University of Manitoba's Indigenous Concerns on the Environment and would like to help make positive changes to the environment as much as I can through my studies, volunteer, and work..
---
Kianna Durston
Kianna is an undergraduate student at the University of Manitoba, studying Environmental Studies with an interest in aboriginal consultation within Environmental Assessments and the socio-economic impacts that stem from project development. With an artistic background working with mixed mediums, Kianna spends her free time volunteering at Art City where she helps facilitate drop-in art programming workshops for youth in West Broadway. With passions spanning from environmental stewardship to youth engagement and education, she has found a strong tie to the importance of land-based education as an integral tool to educate, learn from, and create connections with the land and its cyclic processes. Kianna looks forward to using these passions to drive the projects she will be working on with Wa Ni Ska Tan.
---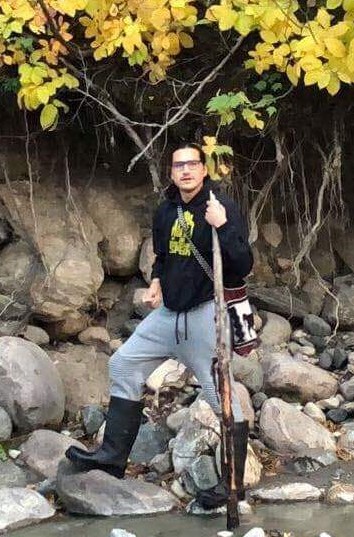 Donald F. Jr Dysart
Tanisi. My name is Donald F. Jr Dysart from South Indian Lake Manitoba. I am working on an undergraduate degree at the University College of the North in The Pas, Manitoba. Here I will obtain my Bachelor of Arts with a major in Aboriginal Studies and a minor in Science. I plan to further my education in the sciences and foresee myself working toward a master's and eventually a doctorate degree. In my spare time, I enjoy reading, hiking, nature, and love camping when and wherever possible. I was very fortunate to have grown up on reserve, this in turn has shaped my worldview and laid the foundation for my aspirations. With first-hand experience on the effects that government and corporate development have on the land, the people, the culture, as well as the social and economical aspects of Indigenous life, I relate to the many issues our people face. My goal is to encourage youth to pursue their education and hope that with the kis kin ha ma ki win project we can inspire the desire, within the community, so that the youth get involved in the sciences and other educational aspects that will help shape a more sustainable future for all. I look forward to summer 2019 and hope to see you out there. ekosi kininaskomitin.
---
Tanjina Tahsin
Tanjina Tahsin is a graduate student at the University of Manitoba's Master of Environment program. She has a B.S. (Honours) degree in Soil, Water and Environment from University of Dhaka. Bangladesh. During her Master's degree from the same department she studied Environment as her major arena of focus and completed a thesis on contamination (heavy metals) of food (specifically vegetables), sources of contaminants, and networks in the food chain, as well as their effect on human health. From 2013 to 2015 she worked for an International NGO, International Fertilizer Development Center, focusing on innovative agricultural technology as well as rural development, focusing especially on women. During her work, she has explored many monitoring tools (survey, interview and focus group discussions) based on project needs. Tanjina has also gained experience working with adolescents in an Adolescent Development Programme for BRAC, an international development organization based in Bangladesh. Now under the supervision of Dr. Stephane McLachlan, she will conduct her research which will explore the role of youth-centred Science education in the cross-culture community-based monitoring program with five communities of south and north. It is expected that her work will also include both Traditional Knowledge (TK) and western environmental sciences in addressing community concerns.
---
Karlee Lemus
My name is Karlee Lemus and I am an Environmental Studies student at the University of Manitoba with a focus on policy & law and biology. In the future I'd like to pursue a career as an environmental lawyer, focusing primarily on the relationships between Indigenous people and the land. In my free time, I like to stay busy by volunteering, hiking, reading, and spending as much time outdoors as possible. I am looking forward to helping shape the kis kin ha ma ki win project and can't wait to help encourage Indigenous youth to build a stronger relationship within their community incorporating land, water and cultural teachings.
---
Dylan Kensick
Aboozhoo! My name is Dylan Kensick and my family roots are from Winnipeg, Selkirk, and Sagkeeng First Nation. I am an Environmental Studies student at the University of Manitoba with a focus on biology, conservation, and restoration. I hope to work with First Nation communities and help to restore or repair damaged ecosystems. I am fascinated by trees and other plants because of the services they provide for people and other beings. I enjoy being outside in the forest with all of Mother Earth's beings, picking medicines and foods, fishing, camping, paddling, and other outdoor activities. Indigenous traditional knowledge and ceremony is an important part of my life and I hope to continue learning and pass on teachings so that we as people can live together sustainably and ensure our children and grandchildren can enjoy comfortable happy lives.